Best of newspaper ads: The search for company, leisure partners and party guests
Anyone who a few years ago was looking for contact exchange did not start the computer or a mobile phone app, but instead opened the current newspaper edition armed with a ballpoint pen. While one person was busy rummaging through advertisements, all of which complained as if one could make a personal appointment with Brad Pitt with just one call, the other took the courage to place a contact ad himself. Even out of fashion today,  ads are still placed today that look deep into the wishes of the people who commission them.
Starting with partners, the range extends from escorts for leisure activities to best agers, who prefer to escort strangers to events "instead of always just sitting around" and don't even charge a fee for it. Foundress of the Changemate agency Luise Loué has collected authentic newspaper advertisements for several years.
Best of newspaper ads
1.This man is tired of enjoying the sweet side of life alone and is therefore looking for a lady who shares his love of life.
2. Stop boredom, this gentleman probably thought when he placed an advertisement in which he offered himself as a companion for occasions and journeys.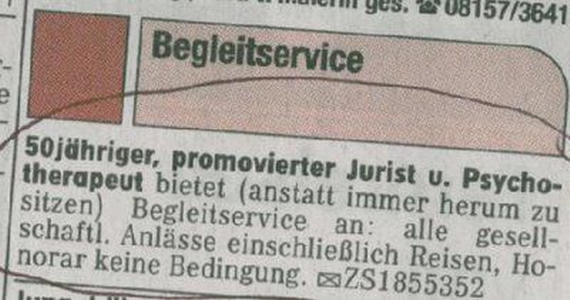 3.The party company can also be increased in the twinkling of an eye.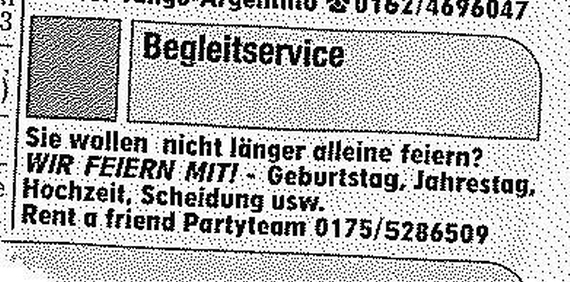 4.The reference "no relationship" as in this newspaper ad often seems to be necessary, because not everyone is looking for a partner for "everything".

5. This young man tries his luck and cries out for a patroness who will help him financially in return for social appearances and mental support.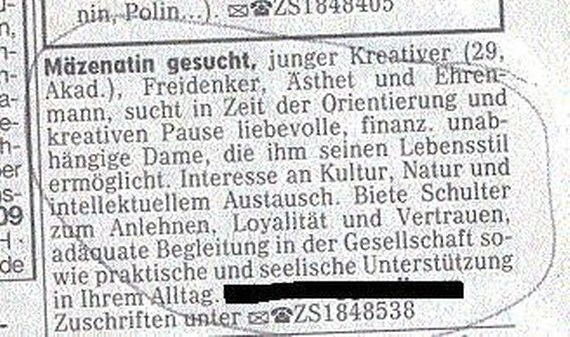 Ask yourself what kind of newspaper ad you would place. Would it be a call for a family member? A good friend or a reliable companion who supports you at events and shares important events in your life with you? Or would you like to become part of the life of others and enrich them with your personality? Whatever the answer may be, the Changemate Agency is your contact.
Sources:
Collection of Luise Loué, ads from the Süddeutsche Zeitung, years 2008-2009